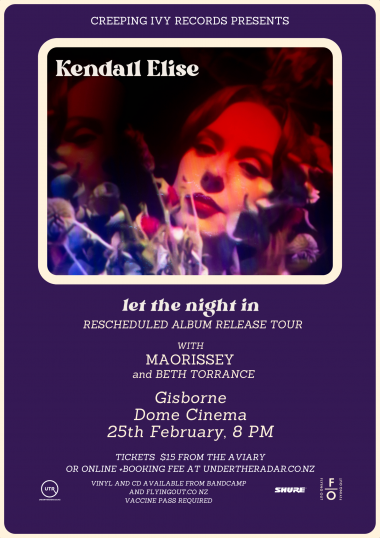 Dates: Friday 25 Feb, 8pm
Rescheduled from last year Kendall is coming with her band to bring us her new album Let the Light In with support from Maorissey and Beth Torrance.

Tickets $15 from Aviary or online + booking fee from undertheradar.co.nz

Aotearoa's critically-acclaimed and intriguing story-teller, Kendall Elise, is back with a sensual new single, 'I Want'. The moody track is the third and final single to be released off her upcoming sophomore album, LET THE NIGHT IN.

With its trance-like pulse and minimalist arrangement, 'I Want' walks the line between wanting to express the dark side of lust and grappling with the internal fear of rejection.

With an impressive career to date, Kendall has toured with, and opened for the likes of Midge Marsden, Tami Neilson, Larkin Poe, Gin Wigmore and Bic Runga. In 2019, she released her debut album RED EARTH, which debuted at #12 in the NZ Music Album charts and earned Kendall a spot in the Top 3 finalists for the 2020 Recorded Music New Zealand Best Country Artist.