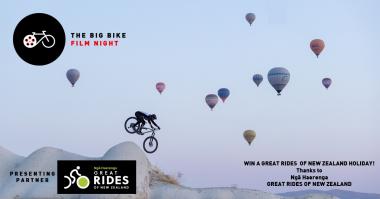 SCREENING FOR JUST 2 NIGHTS - MAY Tuesday 24th, Wednesday 25th 7pm
TICKETS ARE NOW SOLD OUT FOR BOTH NIGHTS
The Big Bike Film Night is on a mission- bringing the best cycling short films from around the world together for you.
Showcasing over 2 hours of content that has everything a cycle-centric audience could want - action, drama, humour, and plenty of inspiration; the evening is unashamedly and utterly, utterly, utterly designed and devised for the two wheel devotee!
This year's treasure chest of films includes one rider's colourful adventure through dramatic landscapes to the illumination of hot air balloons; a small Hawkes Bay school's ambitious plan to create a sustainable way to increase students hauora (a Māori philosophy of health and well-being); three friends mission to the centre of South America on a treacherous 2500-kilometre bike and raft trip; a camp designed for female athletes to ride together and progress together; a group of young rowdies expressing their individuality through uni-cycling; a bicycle that is transformed into a work of art; a trail builders' creative expression coming to life before your very eyes; a fixie rider's obsession with speed, AND one man's journey from India to Germany on a tandem bike, who on his way picks up strangers to inform them about modern day slavery; ALL in the mix!!
Previous attendees' comments over the years':-
"These are fantastic films from around the world, and always worth watching. A great night out."
"Go! You will be entertained and inspired!!"
"What a night, it was full of endless inspirational bicyclists, builders and bonkers people!! If you've forgotten what fun looks like.. go watch these films!!"

NATIONAL COMPETITION
Along with these films to make you fizz.... you could win BIG!
Purchase a ticket to any New Zealand screening and many, many thanks to our Presenting Partner Ngā Haerenga Great Rides of New Zealand you'll go in the draw to win one of four epic Great Ride holidays, including the Grand Prize, which includes return flights for two to Queenstown, biking the Around the Mountains Cycle Trail, and more! Entrants also get the chance to win holidays on Taupō's Great Lake Trails, the Timber Trail and Mountains to Sea Ngā Ara Tūhono cycle trail.
Ground Effect Cycle Clothing, Shockcraft Suspension, and the Craters Classic prizes are also up to win through our National Competition.

THE BIG BIKE FILM NIGHT is exempt from classification, but the films are suitable for the entire family and would obtain PG ratings. ** If you are a parent bringing younger bike riders along, our finale film deals with human trafficking and modern day slavery so it could be an opportune time to bring this issue up with them, and how to respond.